Red Cross Blood Drive
Monday, February 15th, 12:00 PM – 6:00 PM
Donating blood is a simple thing to do, but can make a big difference in the lives of others. The American Red Cross is hosting a blood drive at Buena Park Downtown on January 18th located on the lower level in the Walmart wing. Click here to schedule an appointment.
E-Waste Drive
Saturday, February 20th, 10:00 AM – 4:00 PM
Stop by Buena Park Downtown to donate your unwanted electronics at our e-waste collection drive located in the parking lot behind Walmart. Items being collected are: CRT TVs and monitors, cellular and landline phones, computer systems, LCD/LED TVs and monitors, networking equipment, laptops, projection TVs, broken/old speakers, computer parts, and other e-waste items. All proceeds from the e-waste collection go to local charity Giving Children Hope to feed local families in need.
JACK FM Appearance
Saturday, February 27th, 12:00 PM – 2:00 PM
Come check out the crew from JACK FM in the Krikorian Courtyard from noon – 2:00 PM as they spread the word on green tips, like not using a wood-burning fireplace when the air quality is poor. An you will have your chance to sign up for air alerts and grab some awesome tickets, AQMD swag, including travel mugs, pens, and tote bags!
Coaster Run Packet Pick Up
Saturday, March 5th
Are you registered for the Coaster Run at Knott's Berry Farm? If so, you can visit Buena Park Downtown on Saturday, March 5th to pick up your race packet and avoid the lines the day of the run. Packets will be available in Center Court from 10:00 AM to 3:00 PM. Not yet registered? To sign up for the run visit: http://www.active.com/buena-park-ca/running/distance-running-races/the-coaster-run-2016. The Coaster Run will take place at Knott's Berry Farm on Sunday, March 6th and will benefit the Speech and Language Development Center.
Wedding Design Center Spring Fashion Show
Saturday, March 6th, 2:00 PM - 4:00 PM
Come check out the Wedding Design Center Spring Fashion Show to see the latest and greatest trends in prom, quinceanera, bridal, and bridesmaids dresses. There will be two showings, at 2:00 PM and 4:00 PM in Center Court so don't miss the fun and fashion!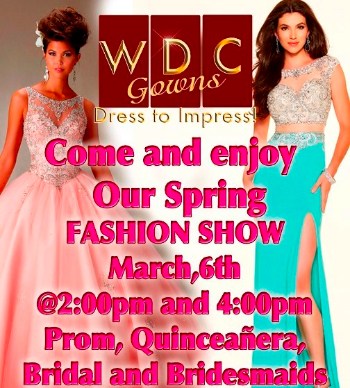 Easter Bunny Photos
Friday, March 11th – Saturday, March 26th
Hop over to Buena Park Downtown to take photos with the Easter Bunny! He will be in Center Court from March 11th – March 26th.

Monday - Thursday: Noon - 7:00 PM, Break: 3:00 PM - 3:30 PM
Friday & Saturday: 11:00 AM - 7:00 PM, Break: 3:00 PM - 3:30 PM
Sunday: 11:00 AM - 5:00 PM, Break: 3:00 PM - 3:30 PM